UltraPower® Surgical Drill System
The Hall's UltraPower System is designed for use in revision operations, spinal cord, neurological, and small bone operations.

Bone, but also monoblock and other implants, can be dissected or separated intraoperatively using various drilling and milling attachments. Non-releasable metal compounds can also be easily separated. Broken implants are drilled and processed to make them easier to remove.

The pneumatic system provides exceptional performance and is indispensable for complex revision operations.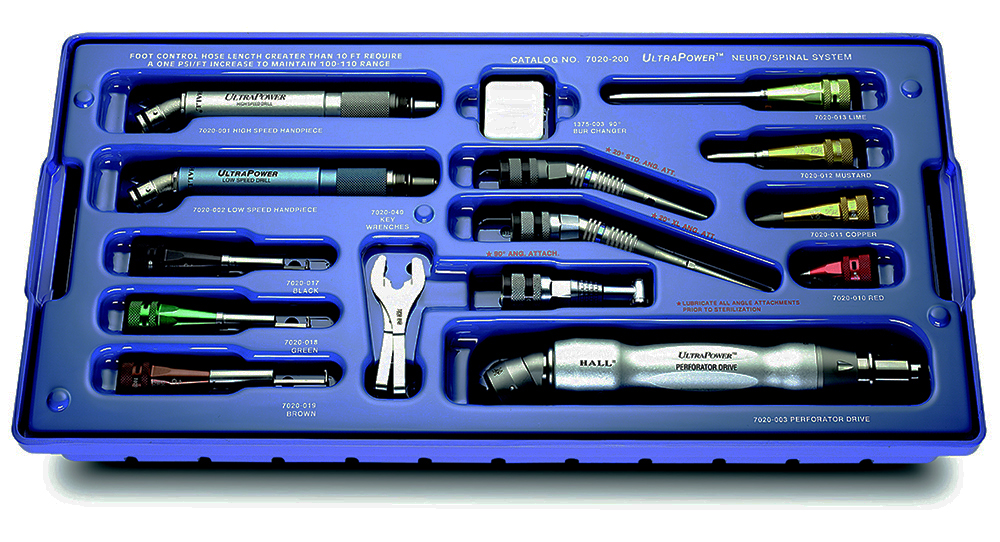 Optimum site management, with built-in economy.
High Speed Drill has a max. speed of 70,000 rpm and 7.5 in. oz. of stall torque
Low Speed Drill has a max. speed of 20,000 rpm and 23 in. oz. of stall torque
Provides precision cuts quickly and cleanly without bogging down
Perforator Drive handpiece accepts any cranial perforator with a Hudson shank
Irrigation System available
Convenient variable-speed foot control ensures control at surgical site by allowing you to choose the speed that makes the most sense for the situation
Operating at an economical 100 psi, the lubeless UltraPower System is dependable during even the longest of procedures
Connect with superior cutter technology.
Wide array of burs
Diversely sized and shaped heads with assorted shaft lengths ensure an ideal choice for each procedure
Positive lock collet mechanically secures the bur for extra convenience and safety
Wide variety of angled attachments and bur guards accommodate various surgical requirements
With over 30 years of experience in pneumatics, Hall Surgical is proud to show you the essence of choice, putting the power of versatility at your fingertips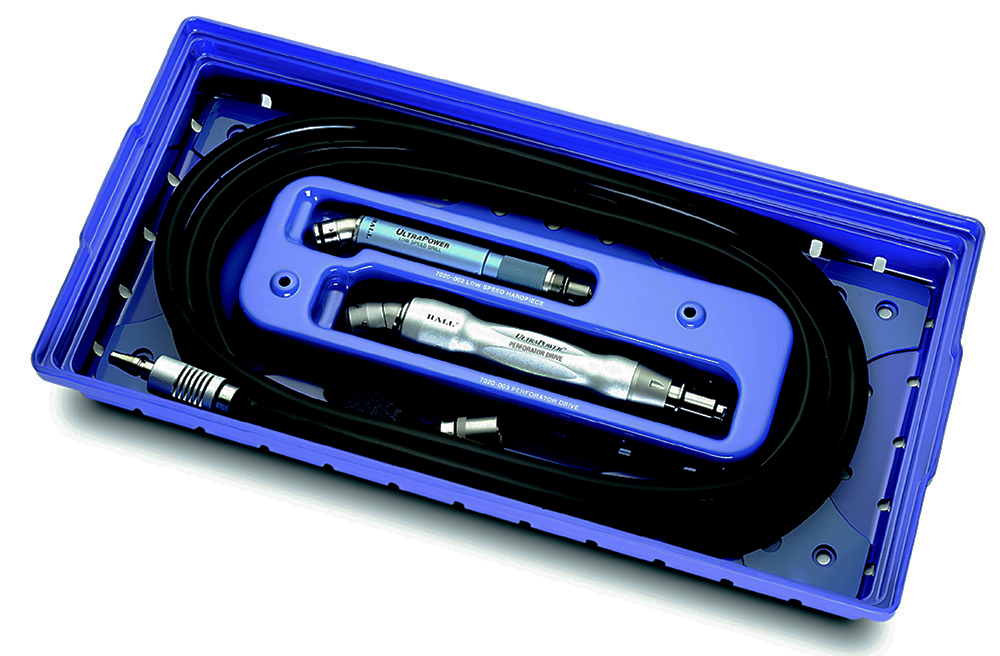 Consumables

The pictured consumables cutters are mostly used for surgical operations: Hard metal milling (right) and diamond coated cutting disc (left).
All essays are consumable materials, which are delivered sterile and billed according to your consumption.