Universal chisel system for the arthroplasty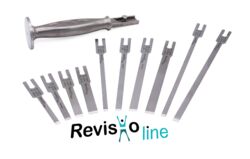 The blades set has been specially developed for the revision of cementless and cemented stem prostheses.

The set consists of 10 straight, flexible, ground faced blades. The different sizes offer the greatest flexibility in stem revision.

The hardened-stainless-steel-handle with quick coupling function enables the chisel blades to be changed fast and easily without additional tools.
All RevisioLine chisels are available as:
Standard, multiple sterilisable and usable
SINGLE USE (SU), multiple sterilisable but single use for application
RevisioLine Handle - RL0990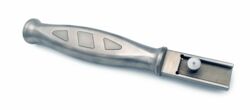 RevisioLine Handle for chisel blades
Length of handle: 126 mm;
Width: 29 mm;
Weight: 257 g
RevisioLine ergonomic handle for chisel blades with quick release. Enables quick replacement of chisel blades during surgery.
RevisioLine Strike plate - RL0990-SP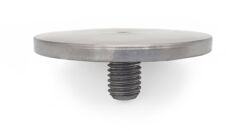 Strike plate for RevisioLine handle
Diameter: 48 mm; Thickness: 3 mm

The RevisioLine impact plate is wider than conventional impact plates.
More safety for the user!
We manufacture personalised impact plates on request.

Chisel straight, 60mm
RevisioLine flexible chisel blade 60/6 mm - RL0981 alternative RL0981-SU

Chisel straight
Case of use: proximal area
Size: L = 60 mm, B = 6 mm
Please note: chisels have one prosthesis and one bone side
RevisioLine flexible chisel blade 60/8 mm - RL0991 alternative RL0991-SU

Chisel straight
Case of use: proximal area
Size: L = 60 mm, B = 8 mm
Please note: chisels have one prosthesis and one bone side
RevisioLine flexible chisel blade 60/10 mm - RL0992 alternative RL0992-SU
Chisel straight
Case of use: proximal area
Size: L = 60 mm, B = 10 mm
Please note: chisels have one prosthesis and one bone side
RevisioLine flexible chisel blade 60/12 mm - RL0993 alternative RL0993-SU
Chisel straight
Case of use: proximal area
Size: L = 60 mm, B = 12 mm
Please note: chisels have one prosthesis and one bone side
RevisioLine flexible chisel blade 60/25 mm - RL0984 alternative RL0984-SU

Chisel straight
Case of use: proximal area
Size: L = 60 mm, B = 25 mm
Please note: chisels have one prosthesis and one bone side
Chisel straight, 125mm
RevisioLine flexible chisel blade 125/6 mm - RL0982 alternative RL0982-SU

Chisel straight
Case of use: distal area
Size: L = 125 mm, B = 6 mm
Please note: chisels have one prosthesis and one bone side
RevisioLine flexible chisel blade 125/8 mm - RL0994 alternative RL0994-SU
Chisel straight
Case of use: distal area
Size: L = 125 mm, B = 8 mm
Please note: chisels have one prosthesis and one bone side
RevisioLine flexible chisel blade 125/10 mm - RL0995 alternative RL0995-SU

Chisel straight
Case of use: distal area
Size: L = 125 mm, B = 10 mm
Please note: chisels have one prosthesis and one bone side
RevisioLine flexible chisel blade 125/12 mm - RL0996 alternative RL0996-SU
Chisel straight
Case of use: distal area
Size: L = 125 mm, B = 12 mm
Please note: chisels have one prosthesis and one bone side
RevisioLine flexible chisel blade 125/25 mm - RL0985 alternative RL0985-SU

Chisel straight
Case of use: distal area
Size: L = 125 mm, B = 25 mm
Please note: chisels have one prosthesis and one bone side
Chisel straight, 190mm
RevisioLine flexible chisel blade 190/6 mm - RL0983 alternative RL0983-SU
Chisel straight
Case of use: distal area
Size: L = 190 mm, B = 6 mm
Please note: chisels have one prosthesis and one bone side
RevisioLine flexible chisel blade 190/8 mm - RL0997 alternative RL0997-SU

Chisel straight
Case of use: distal area
Size: L = 190 mm, B = 8 mm
Please note: chisels have one prosthesis and one bone side
Chisel curved
RevisioLine flexible chisel blade - RL0986_L alternative RL0986_L-SU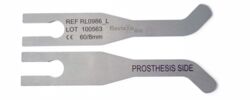 Chisel curved: left curved
Case of use: proximal area
Please note: chisels have one prosthesis and one bone side
RevisioLine flexible chisel blade - RL0986_R alternative RL0986_R-SU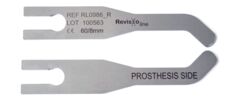 Chisel curved: right curved
Case of use: proximal area
Please note: chisels have one prosthesis and one bone side