safeConnect® Safe impaction of taper junctions

The result of applying manual forces with a mallet to join taper junctions of femoral heads and cup inlays is a wide range of impaction forces.
This represents a potential risk for corrosion and micro motion at the taper junction. Current scientific studies show that a high and constant impact force has a significant impact on the joined tapers' safety.
Under continuous scientific evaluation a standardized impacting procedure has been developed which guarantees a replicable force application to the taper junctions of femoral heads and cup inlays. A new instrument replaces the mallet driven and manual impaction process.
safeConnect is therefore the essential instrument for primary and revision arthroplasty.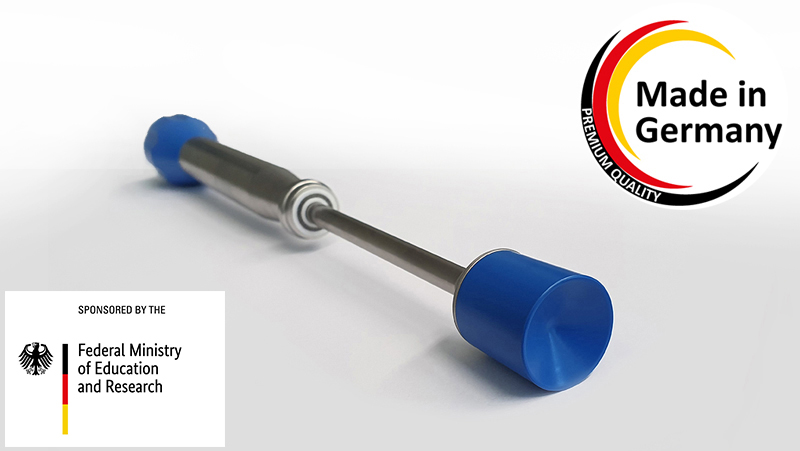 Functional principle
The instrument is placed on the ball head or cup inlay and is manually pushed in the axial direction of the prosthesis. A mechanism is automatically triggered and releases a constant impulse to the components. As a result, the taper connection is connected by a precise and replicable force.

Advantages
Standardized and safe procedure
Precise and replicable application of impaction force
One instrument for ball heads and cup inlays
Simplified operation handling
safeConnect - the ingenious innovation for hip arthroplasty
How safeConnect works
For English subtitles, please activate the video subtitles in the menu at the bottom.
You can choose the language from the menu next to 'settings'.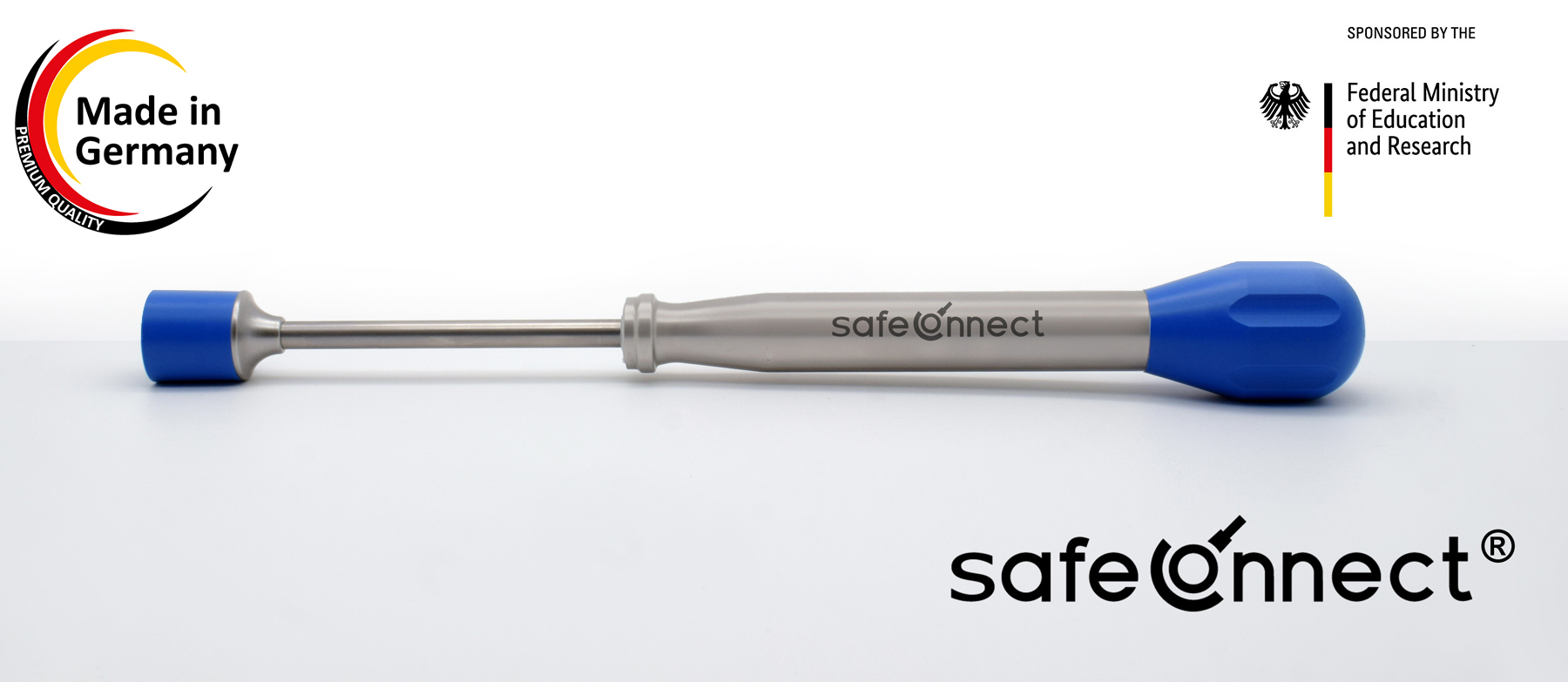 Single and spare parts
Pos.
Art. no.
Description
Pos.
Art. no.
Description
1
740100
Instrument safeConnect
2
740120
Ball head attachment safeConnect
Literature on the topic
[1] LEARMONTH, I.D., YOUNG, C., RORABECK, C. (2007).
The operation of the century: total hip replacement. Lancet. 370 (9597): S. 1508-19.
[2] KAUFMANN-KOLLE, P., WILLMS, G. (Göttingen 2011).
Qualitätsreport 2010. Gemeinsamer Bundesausschuss Berlin. AQUA – Institut für angewandte Qualitätsförderung und Forschung im Gesundheitswesen GmbH.
[3] KURTZ, S., ONG, K., LAU, E., MOWAT, F., HALPERN, M. (2007).
Projections of primary and revision hip and knee arthroplasty in the United States from 2005 to 2030. J Bone Joint Surg Am. 89 (4): S. 780-5.
[4] BISHOP, N., WITT, F., POURZAL, R., FISCHER, A., RUTSCHI, M., MICHEL, M., MORLOCK, M. (2013).
Wear patterns of taper connections in retrieved large diameter metal-on-metal bearings. J Orthop Res. 31 (7): S. 1116-22.
[5] LANGTON, D.J., SIDAGINAMALE, R., LORD, J.K., NARGOL, A.V.F., JOYCE, T.J. (2012).
Taper junction failure in large-diameter metal-on-metal bearings. Bone and Joint Research. 1 (4): S. 56-63.
[6] KOCAGOZ, S.B., UNDERWOOD, R.J., SIVAN, S., GILBERT, J.L., MACDONALD, D.W., DAY, J.S., KURTZ, S.M. (2013).
Does Taper Angle Clearance Influence Fretting and Corrosion Damage at the Head-Stem Interface? A Matched
Cohort Retrieval Study. Seminars in arthroplasty. 24 (4): S. 246-254.
[7] LAKSTEIN, D., KOSASHVILI, Y., BACKSTEIN, D., SAFIR, O., LEE, P., GROSS, A.E. (2010).
Revision total hip arthroplasty with a modular tapered stem. Hip Int. 20 (2): S. 136-42.
[8] MCMASTER, W.C., PATEL, J. (2013).
Adverse local tissue response lesion of the knee associated with Morse taper corrosion. J Arthroplasty. 28 (2): S. 375.e5-8.
[9] MEYER, H., MUELLER, T., GOLDAU, G., CHAMAON, K., RUETSCHI, M., LOHMANN, C.H. (2012).
Corrosion at the cone/taper interface leads to failure of large-diameter metal-on-metal total hip arthroplasties. Clin Orthop Relat Res. 470 (11): S. 3101-8.
[10] LAVERNIA, C.J., BAERGA, L., BARRACK, R.L., TOZAKOGLOU, E., COOK, S.D., LATA, L., ROSSI, M.D. (2009).
The effects of blood and fat on Morse taper disassembly forces. Am J Orthop (Belle Mead NJ). 38 (4): S. 187-90.
[11] REHMER, A., BISHOP, N.E., MORLOCK, M.M. (2012).
Influence of assembly procedure and material combination on the strength of the taper connection at the head-neck junction of modular hip endoprostheses. Clinical biomechanics (Bristol, Avon). 27 (1): S. 77-83.
[12] NASSUTT, R., MOLLENHAUER, I., KLINGBEIL, K., HENNING, O., GRUNDEI, H. (2006).
[Relevance of the insertion force for the taper lock reliability of a hip stem and a ceramic femoral head]. Biomed Tech (Berl). 51 (2): S. 103-9.
[13] COOK, S.D., MANLEY, M.T., KESTER, M.A., DONG, N.G. (1993).
Torsional resistance and wear of a modular sleeve-stem hip system. Clinical materials. 12 (3): S. 153-8.
[14] MUNIR, S., WALTER, W.L., WALSH, W.R. (2015).
Variations in the trunnion surface topography between different commercially available hip replacement stems. J Orthop Res. 33 (1): S. 98-105.
[15] GILBERT, J.L., BUCKLEY, C.A., JACOBS, J.J. (1993).
In vivo corrosion of modular hip prosthesis components in mixed and similar metal combinations. The effect of crevice, stress, motion, and alloy coupling. J Biomed Mater Res. 27 (12): S. 1533-44.
[16] KRETZER, J.P., JAKUBOWITZ, E., KRACHLER, M., THOMSEN, M., HEISEL, C. (2009).
Metal release and corrosion effects of modular neck total hip arthroplasty. Int Orthop. 33 (6): S. 1531-6.
[17] GOLDBERG, J.R., GILBERT, J.L. (2003).
In vitro corrosion testing of modular hip tapers. J Biomed Mater Res B Appl Biomater. 64 (2): S. 78-93.
[18] KHAN, M.A., WILLIAMS, R.L., WILLIAMS, D.F. (1999).
The corrosion behaviour of Ti-6Al-4V, Ti-6Al-7Nb and Ti-13Nb-13Zr in protein solutions. Biomaterials. 20 (7): S. 631-7.
[19] GRUPP, T.M., WEIK, T., BLOEMER, W., KNAEBEL, H.P. (2010).
Modular titanium alloy neck adapter failures in hip replacement--failure mode analysis and influence of implant material. BMC Musculoskelet Disord. 11: S. 3.
[20] GOLDBERG, J.R., GILBERT, J.L., JACOBS, J.J., BAUER, T.W., PAPROSKY, W., LEURGANS, S. (2002).
A multicenter retrieval study of the taper interfaces of modular hip prostheses. Clin Orthop Relat Res. 401: S. 149-61.