SOS set
Universal OP-removal-tool for damaged and broken bone screws.
SOS set complete consisting of: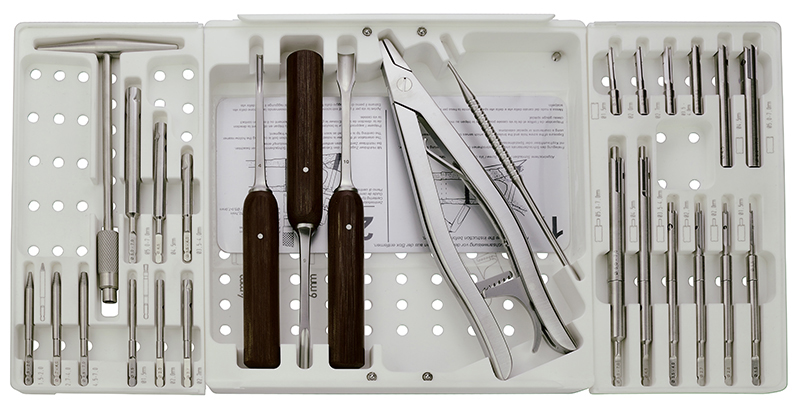 Universal set for loosening or removing broken and damaged screws. Safe and reliable.
Specifications:
Overtightened screw heads
Broken / torn off screws
The set contains all necessary instruments for the exposure of screws, cleaning of screw heads in order to apply the instrument, safe gripping of damaged hexagonal / cross and Torx screws up to the left removal of thread fragments in depth. The respective application is illustrated by means of a simple template.
All tools available for screw size:
1,5/2,0/2,7/3,5-4,0/4,5/5,0-6,5-7,0 mm

1 x Conical extraction screw 1,5/2,0 mm diam.
1 x Conical extraction screw 2,7/3,5/4,0 mm diam.
1 x Conical extraction screw 4,5/6,5/7,0 mm diam.
6 x Extraction bolt
6 x Hollow reamer
6 x Centrical bolt for hollow reamer
6 x Tube for hollow reamer
1 x Hook sharp, lenght 155 mm
1 x Screw holding forceps, 20,5 cm / 8"
1 x Mini-lexer osteotome, 4 mm
1 x Mini-lexer osteotome, 6 mm
1 x Mini-lexer osteotome, 10 mm
1 x T-handle cannulated for AO-stem 160 mm
1 x Aluminium tray for SOS set