Intramedullary nail extraction
Universal tool for the removal of intramedullary nails with internal threads.
The instrument consists of an impact tube with a sliding hammer and a push rod, which is guided through a fine thread in the impact tube. The conical tip of the push rod is used to spread a tip which is selected according to the diameter of the nail receiver in the manner of a plug.
The tension of the push rod is thus held in the rear part by a spring assembly. Due to the clamping range of the tips, 3 sizes are sufficient to cover all internal threads. It should be noted that the sizes of the tips are selected so that they fit into the borehole of the nail with the least possible clearance. This achieves the maximum stable combination of extractor and nail.
Provided with the instruments are a straight and a candan handle for a set of long hex bits from 2.5 to 5.5 mm ascending in steps of 0.5 mm. The bits are suitable to remove screws with corresponding hex sockets. At the tip the surfaces of the bits are slightly converging, so that they can be secured onto the bit by a slight knocking of the bit into the hex socket of the plug and can thus be easily removed.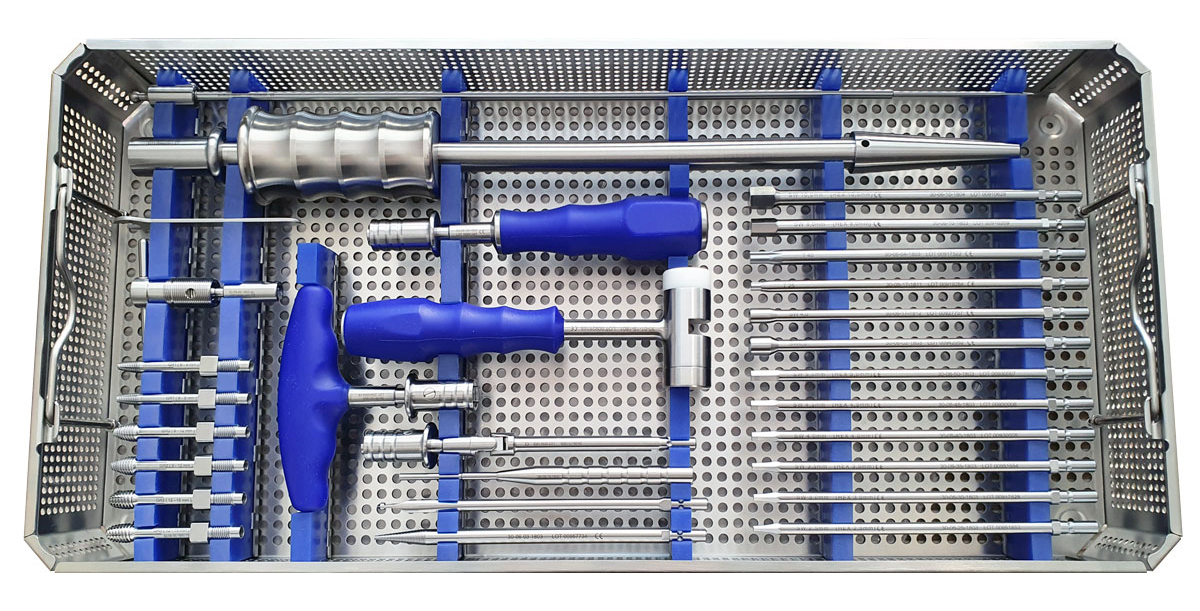 Advantages at a glance:
Fast and safe extraction of intramedullary nails with internal thread
Easy assembly and tensioning
Fast and safe, significant reduction in OP time
Includes various handles, allen wrench, universal joint and hammer
Clean, organised storage
Tibial component extraction with Intramedullary Nail Extractor