High pressure irrigation system "JetLavage"
To prepare the implant side for joint replacement operations. But also suitable for other applications such as effective and gentle tissue rinsing of unclean or contaminated wounds, irrigation of infected wound areas or cooling in the operating area during instrumental treatment of bones.
The endocon JetLavage offers you everything you need from a modern irrigation system.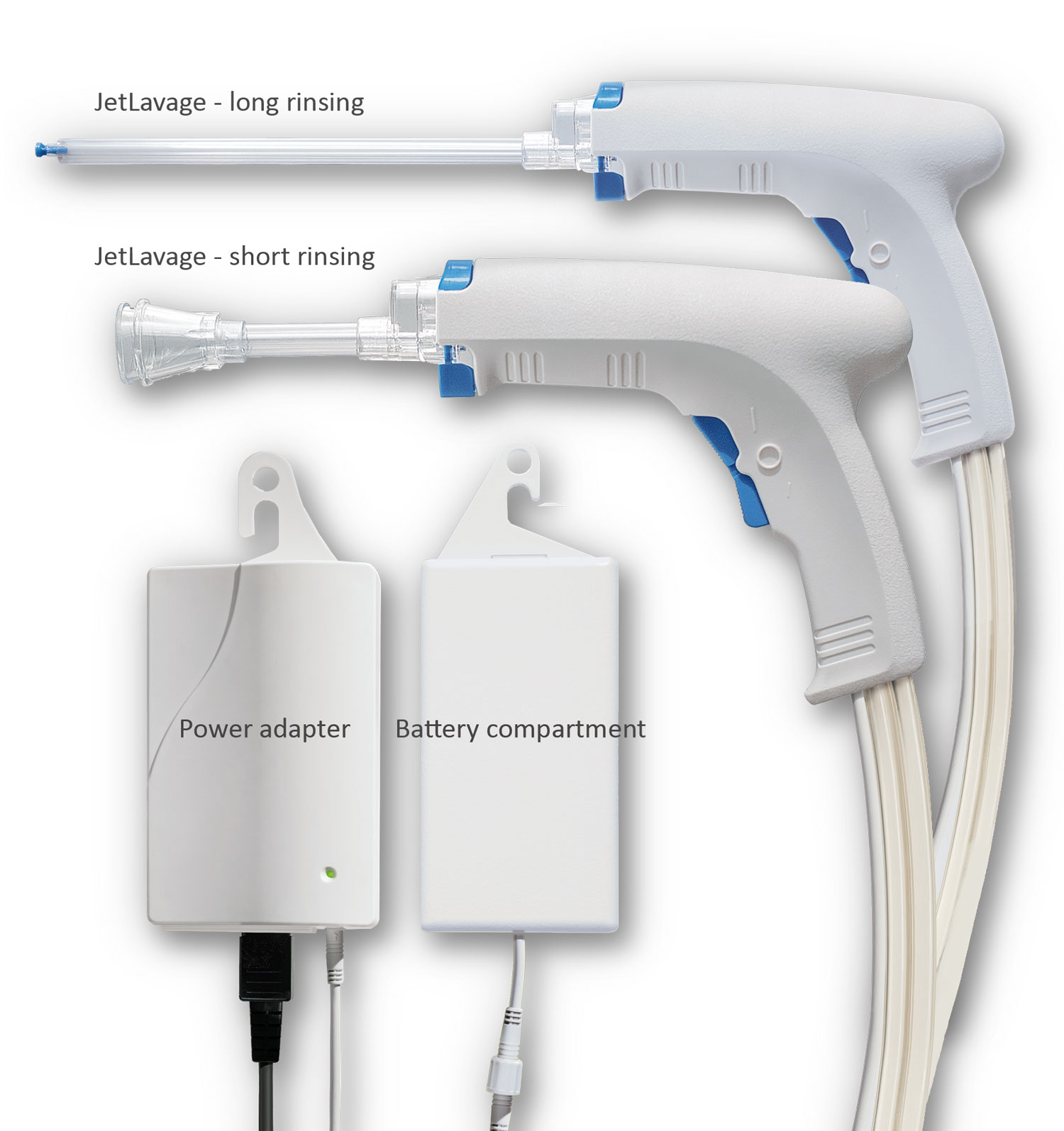 Cost reduction due to low system cost and elimination of battery disposal and residual material separation
Advantages at a glance:
Cost-effective one-time purchase of the reusable power adapter
Easy and fast handling
Powerful but adjustable irrigation performance via handle
Short and long rinsing and suction attachment included
Specifications:
High speed flow rate over 1200 ml/min
Low speed flow rate 500 ml/min
Rinsing pressure 1 bar
Hose length for irrigation inlet and drain 3 m
Can be used in battery mode as well as with power adapter
On request with blister packaging
Accessories
Art. 802104 Femoral brush for drill chuck attachment
L =280 mm, L brush = 110 mm, Ø 20 mm, connection 6.5 mm
Accessories
Art. 802105 Femur canalbrush for JetLavage
accessory applicable instead of short or long rinsing
Options
All our systems are also available as a loan system. Ask us!
Pos.
Art. no.
Description
1
802100
JetLavage
Battery operation blister packaging
2
802101
JetLavage
Set Power supply operated
3
802102
JetLavage
Set Power supply operated blister packaging
4
802103
Power adapter only
optional
5
802104
Femoral brush for drill chuck attachment
optional
6
802105
Femur canalbrush for JetLavage
optional