StemExtractor: hip stem extraction tool
The StemExtractor is a proven surgical instrument for total hip replacement femoral components that should be available in every revision surgery.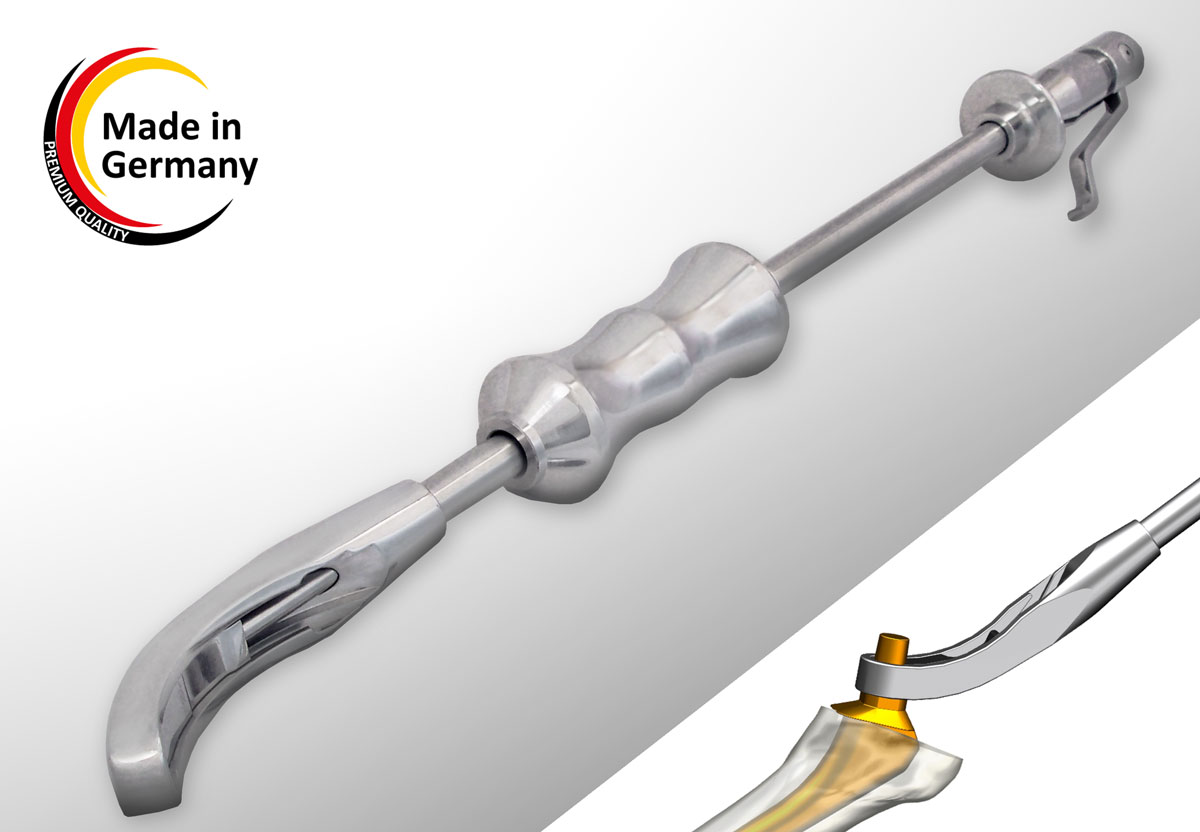 Revision operations are safer and better when scheduled with this instrument.
Only a few steps necessary for safe fixation of the instrument to the neck of the prosthesis
Axial force transfer and stable clamping force by patented system
Transfer of clamping force along a curved tool head to the prosthesis cone
Minimized size of the instrument head, designed for limited space conditions
Efficient, rational and cost-saving surgical operations
Since 1993 successfull in clinical use
Complete decomposability of the instrument without additional tools
Easy and validated instrument reprocessing
Technical specifications.
Cone size from 8 mm to 16 mm possible with clamps
Slide hammer weight: 1.0 kg - on demand 1.7 kg
Total weight: 2.2 kg
Total length: 550 mm
Driving distance: 280 mm
EndoDriver
Options
All our systems are also available as a loan system. Ask us!
Pos.
Art. no.
Description
1
780500
Hip stem extractor STANDARD Set Professional
Main instrument STANDARD length 550 mm, with system tray (sieve insert and basket)
2
780600
Hip stem extractor STANDARD
Only main instrument STANDARD 550 mm
3
780520
Hip stem extractor LONG Set Professional
Main instrument LONG 635 mm, with system tray (sieve insert and basket)
4
780620
Hip stem extractor LONG
Only main instrument LONG 635 mm
5
780612
780604
Slide hammer weight 1.2 kg)
Slide hammer weight 1.7 kg
Single and spare parts
Pos.
Art. no.
Description
Pos.
Art. no.
Description
1
780610
Pressure rod AE ST
7
780605
780607
780606
780603
Jamcase
Lever
Bolt with plastic insert
Pin with screw
2
780615
Wrench R7
8
780601
Head of tool
3
780614
Wrench R11
9
780613
Handpiece ST2
4
780602
Sliding spacer U
10
780611
Guiding tube AE ST
5
780612
Striking weight 1 kg
11
801037
Stem extractor tray insert
6
780616
Allen key
12
801001
Tray 1/1 size Aesculap, 60 mm